MonkeyJam
Frame Capturing Software

MonkeyJam's logo

Developer

David Perry

Price
Free!
Compatibility
Windows 2000, XP, Vista, 7
Website
http://monkeyjam.org/

Monkey Jam is a digital penciltest and stopmotion animation frame capturing program that is developed by David Perry, who has not updated the program or his blog since 2011.
Monkey Jam is freeware, and one of the most common frame capturing software used by brickfilmers. It allows for frame capture from webcams, camcorders or scanners and these can be exported as an avi video. The program also allows for the importing of sounds or pictures already taken and on your computer.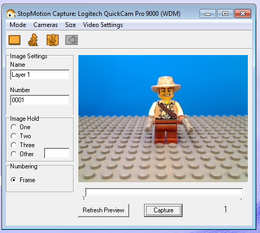 MonkeyJam is well known for its relatively simple but powerful interface. It does not have advanced features such as onion skinning but has a number of others which can be seen below.
One problem with MonkeyJam is that the capturing window interface does not scale. This means that if you wish to animate frames with a high resolution such as 1080p then the capture window will go off your screen and you will be able unable to see the whole frame at once.[1]
Full list of MonkeyJam features

Exposure Sheet driven interface.
Save and reload X-sheets.

Up to ten levels of drawings.

Click and Drag interface to reposition drawings and change their duration.

Instant preview of currently selected drawing.

Import WAV or MP3 audio files.
Waveform display with audio scrubbing and dialog markup.
Import previously captured or scanned images in BMP, Jpeg or PNG format.

Export as an AVI movie.

Adjustable FPS rate (30,24,25,15,12,any).

Support for standard NTSC and PAL resolutions.
Editable Layer names and colors for clarity.
Visibility control for each layer.
Open image in external editor from within MonkeyJam.
Multi-language support.

Capture screenshot

Capture using Webcam, vfw capture card or firewire.
Capture images as BMP, Jpeg or lossless PNG in color or black and white.
Automated X-sheet logging.
Automated number generation with a choice of Frame or Sequential numbering.
Adjustable duration at time of capture.
Frame averaging for cameras with fluxuating auto-exposure.
Automatically rotate images on capture.
Option to adjust for non-square pixels when using a DV camera and aren't playing back to DV tape.
Scanner interface with automatic resolution adjustment to match output size.

Preview screenshot

Three methods of compositing to choose from for best results.
Preview entire movie or a specific range of frames.
Run preview with or without sound, or scrub manually.
Preview at different sizes.
Forward and Reverse playback.
Keyboard and slider control for frame by frame viewing.
Save Preview as AVI movie.

StopMotion Mode. screenshot

Uses X-Sheet to save and re-open project to continue working.
Capture in Color or Black and White.
All images saved individually to allow editing of frames in graphics programs.
Preview last 24 frames in Capture window.
Re-Shoot specific frames.
System Requirements
Edit
Pentium III or higher
Windows 2000, XP, Vista, 7
DirectX 8 or higher
References
Edit
Screenshots
Edit