GIMP
Photo Editing Software

The GIMP logo

Developer

The GIMP Development Team

Price
Free!
Compatibility
Linux, OS X, Microsoft Windows, FreeBSD, OpenBSD, Solaris, AmigaOS 4
Website
www.gimp.org

The GNU Image Manipulation Program (abbreviated to GIMP) is a Photo Editing Software developed by Spencer Kimball and Peter Mattis and this later expanded to be The GIMP Development Team. The program was first released in 1996 and is free and licensed under the GNU General Public Licence. GIMP features. The program's feature set and interface means that it is seen by some as a possible replacement to Adobe Photoshop.[1]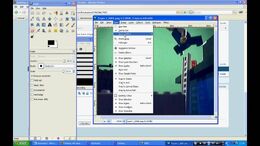 Gimp has many features such as "color, selections and paths, align tool, move, crop, rotate, scale, shear, perspective, flip tools, layers, layer masks, channels, automation, scripts, and plug-ins".[2]
These are popular with brickfilmers for simple 'touching up' edits to enhance the appearance of frames but also for more complex special effects such as 'masking', often used to create the illusion that minifigures can fly.
References
Edit